Optional: PG-101 can connect MV-370 VoIP GSM Gateway:
User can easily carry away to receive calls from your original mobile phone and make outgoing calls to home country with original rate while traveling/abroad.
No more international call charge. And no miss calls while going abroad
User can eliminate international call charge and roaming fee.
Major Feature
* Master Number (Auto Transfer): User can assign a forward number for FXO dial out and authenticate the caller ID of PSTN incoming calls.
*VoIP to PSTN/PSTN to VoIP Call termination
*STUN (Simple Travel of UDP over NAT)
*DHCP (dynamic host configuration protocol) server and client
*NAT (network address translation)
*Peer To Peer Call /Call Waiting/Call Forward/3-Way Conference Call
*Independent Configurable Dial Plans
* DTMF Detection and Generation: In-Band DTMF/Out-of-Band DTMF(RFC2833 or SIP INFO)
* Caller ID Generation / Detection:
* PSTN Call Tone Detection (FXO) and Generation (FXS)
* Register up to 3 sets of SIP servers
* Call Routing by Prefix Number
* Speed Dial
*One stage/Two-stage/Proxy Call transfer selection
*Connect MV-37X VoIP GSM Gateway: eliminate international call charge and roaming fee.
*LED Indicators: Power/Hook/PSTN/Register
*1 year warranty

Specification

*Protocols:SIP (RFC2543,RFC3261)
*Codec:G.711 u-Law,G.711 a-Law,G.729A,G.729A/B
*Voice Quality,VAD,CNG,AEC,LEC,Packet loss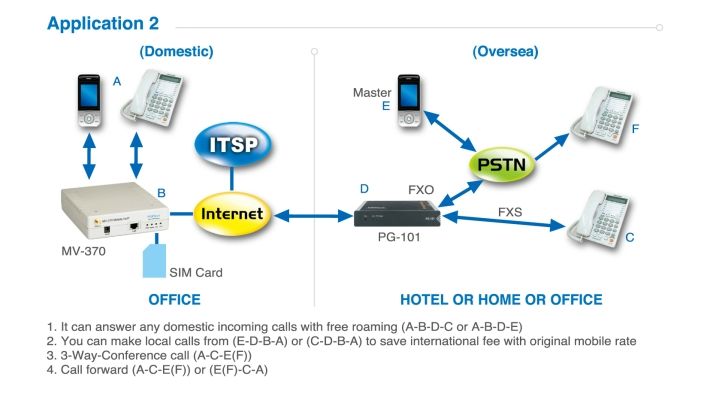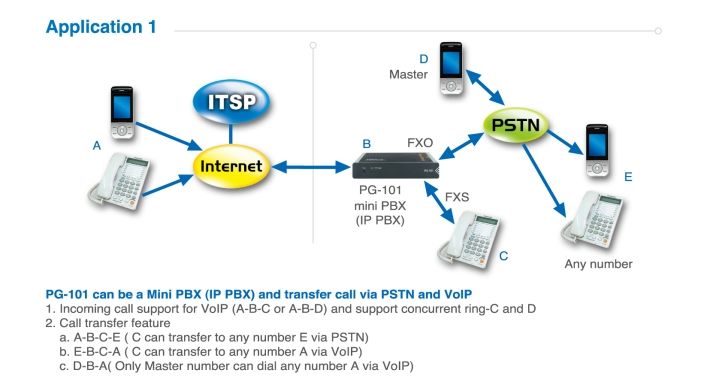 PG-101 can be a Mini PBX (IP PBX) and transfer call via PSTN and VoIP
1) Incoming call support for VoIP (A-B-C or A-B-D) and support concurrent ring-C and D
2) Call transfer feature
A-B-C-E ( C can transfer to any number E via PSTN)

E-B-C-A ( C can transfer to any number A via VoIP)

D-B-A( Only Master number can dial any number A via VoIP)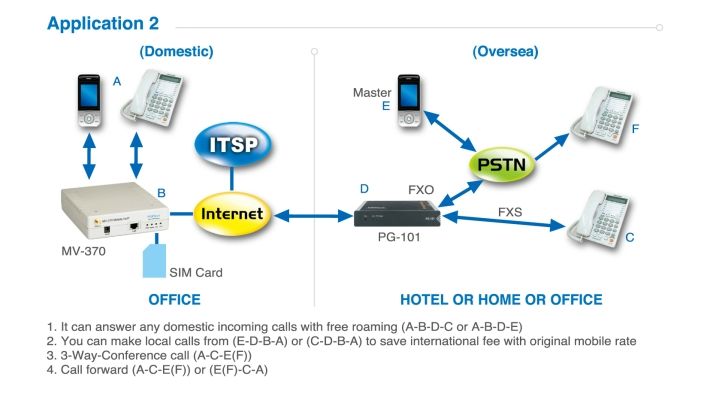 1) It can answer any domestic incoming calls with free roaming (A-B-D-C or A-B-D-E)
2) You can make local calls from (E –D-B-A) or (C-D-B-A) to save international fee with original mobile rate
3) 3 –Way-Conference call (A-C-E(F))
4) Call forward (A-C-E(F)) or (E(F)-C-A)